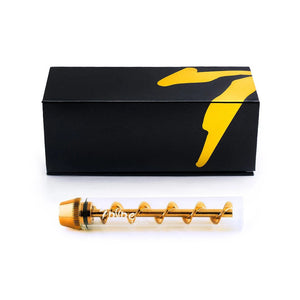 7 Pipe - Twisty Glass Blunt OG
7 Pipe Twisty Blunt available for wholesale. You can find other 7 Pipe smoking accessories here
The 7Pipe Twisty Blunt comes with cleaning tool and 2 silicone caps.
The 7Pipe OG Twisty Blunt features 5 chambers and holds up to 2 grams.  Features the patented Twisty design that minimizes the need to re-light.  Has an innovative cool-pull technology that gives a 30% cooler hit.
The 7Pipe Twisty Blunt is also waterpipe adaptable, use it as a bowl in bubblers and bongs.
*Tip: Use Arizer stem caps as replacement caps for the 7pipe
---
We Also Recommend