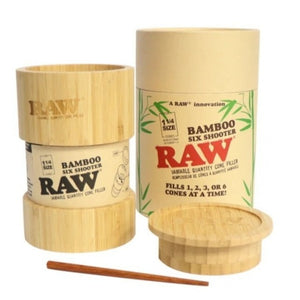 Raw - Bamboo 1 1/4 Six Shooter
Raw Bamboo Six Shooter, 1 1/4 size cone fillers fills up to 6 cones at one time. 
It's as easy as just dialing the plate to the quantity you want to fill or remove it to fill 6 cones.  Then place Raw pre-rolled cones into the open holes, add herbs or tobacco, fasten the top, and start tapping.  When finished you just need to remove the top, press the base plate down, and the Raw cones will pop up.



Reorder: RAW SIX SHOOTER 125

---
We Also Recommend